Reggie's Rock Club is the coolest place in Chicago. Want to hang out on a rooftop? Go to a record store? See two separate shows within a 30 second walk of each other? How about a free ride to any concert? Where you can party DURING the ride, instead of worrying about DUIs or traffic? Reggie's does ALL OF THIS. All the time. Plus, they will only give you half a dirty look if you like sports and ask them to put a game on instead of the Simpsons episode they usually have rolling…
Reggie's is all about the live music, from the bus to its two venues to the ticket stubs built into the bar. Also the Pearl Jam and NIN vintage concert posters that I definitely am NOT going to steal one day. To honor this Chicago institution, I compiled my best memories, or at least the nonsense I concocted to fill the substance-fueled gaps. Let's hope Reggie's maintains it's amazing ways for years to come. Help out if you can:
https://www.gofundme.com/f/help-the-reggies-staff
TOP 5 SHOWS:
1. Slough Feg at Alehorn of Power VIII–July 12, 2014
I knew their material was excellent, but having never seen Slough Feg before, I didn't know that Mike Scalzi and company were ROCK STARS on stage. Slough Feg has the kind of A+ material that deserves to be played to arenas, and damn if the boys didn't treat the narrow Reggie's confines like the mainstage at Wacken.
Also special note goes to the 20 or so Traveller bros that showed up wearing the shirt with that album's iconic cover. If you were at Reggie's for another reason besides seeing Slough Feg, the sight of dozens of unkempt metal dudes wearing a shirt with a weird spacedog on it must have been…curious.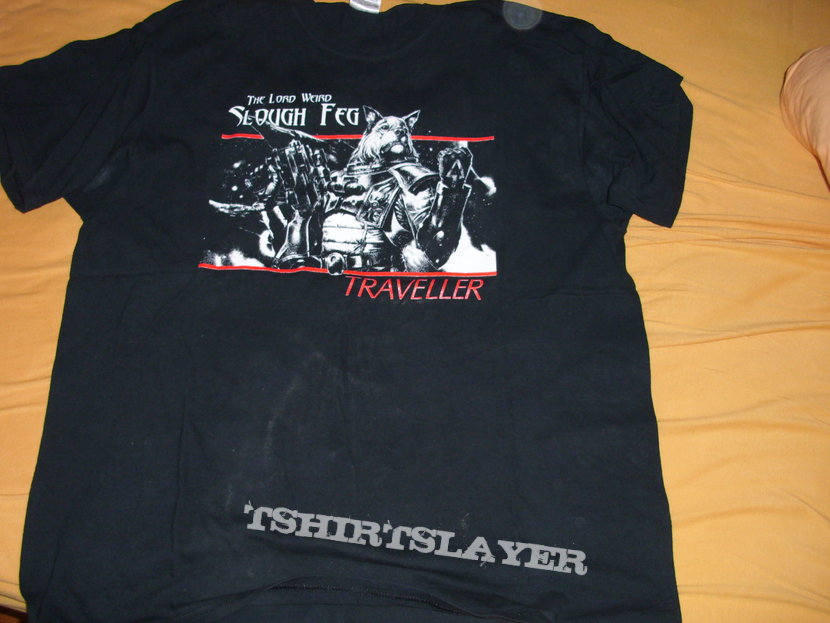 Undaunted by the valid of suspicions of other patrons, that small community banded together and lost it when The Final Gambit started. A pop worthy of the crescendo role that song plays in the album itself. A small group of like minded people there for the music and the good time with no pretense–Reggie's crystalized.
2. Dillinger Escape Plan and Royal Thunder–May 8, 2013
I moved to Chicago on May 7, 2013. The only people I knew were my cousins. One of them ran a bar, and the other was dating a bartender working there. So, naturally, I went to that bar and got drunk. Having only one thing to talk about then (as I do now), I harassed the poor bartender/new boyfriend about this show the next day. It was at some random joint named Reggie's. He knew DEP, and I convinced him that Royal Thunder was worth a look, so he agreed to go.
The next day, of course DEP blew the roof off the building and Mel Parsonz made a believer out of my new friend within the first powerful howl. It was quite the bonding experience. Not only did I discover my new favorite place, I made an amazing friend, with whom I have since shared many ridiculous concert experiences–two absolute benders in a Mindless Self Indulgence show and again with Municipal Waste stand out. And two years later, I was honored to stand up when he and my cousin got fucking married! Without live music, and the amazing places like Reggie's that make it possible, I likely wouldn't have been so lucky.
3. Lucifer–March 21, 2019
I did a full (and slightly sexist, despite my best efforts) write up of this show on this site, check it out here. I don't have too much to add, except the warmth of the show hasn't faded. It remains a great example of the perfect venue making a cool show fucking legendary.
4. Amorphis–March 26, 2017
An only-at-Reggie's kind of evening. We watched North Carolina-Kentucky in the Elite 8 in the bar, walked to Chinatown to eat, then came back and casually saw straight up metal legends in Finland's Amorphis. Pretty fucking hard to replicate, I would argue.
Also, holy shit, the entire show is up on Youtube and the quality is excellent. Check the whole thing out, but how about Bad Blood-My Kantele for now:
5. Khemmis–January 13, 2017; July 1, 2018; July 26, 2019
Had to sneak in a mention for the best new metal band of the last five years. Reggie's is Khemmis' Chicago haven, where they have been able to HEADLINE on three separate occasions. I'm happy to report they started strong and have only gotten better, with their crowd size steadily increasing each time around.
Honorable Mentions:
–The Chasm—August 16, 2018
Just because the band kicked so much ass it was almost beyond belief. Mexico's best death metal band (sorry Brujeria) opened for Batushka and totally stole the show, making all the pomp and circumstance from that oddity seem downright silly.
–Damaged Justice/After Forever–January 5, 2019
The one free post-show drink ticket. Its almost as if Reggie's knows that ticket will lead you to maybe stick around for another…and another…and end up staying until close. But the booze wasn't the only culprit this time around, because I was lucky enough to hang out with the dudes in After Forever, who were fucking awesome to just bullshit about metal with. This could only happen at Reggie's, give or take an Exit trip.
–Judas Beast–Multiple Dates
I couldn't write up Reggie's without mentioning their reigning champion, the best tribute act ever that flawlessly executes both Maiden and Priest tunes with appropriate bombast and set designs.
TOP 5 BUS RIDES:
Tool–June 8, 2017
It was one of the first big shows, and Reggie's bus experiences, for my then new girlfriend and I. It was my fourth Tool show with a lifelong friend and fellow Reggie's vet. And I managed to convince my decidedly non-metalhead cousing to join the heshers for the ride, her well-placed affection for 46 and 2 helping in the mission. We all had to work that day from disparate parts of the city, some had cars and some did not, and everyone wanted to get a little loose. How the fuck was this going to work? Simple–get your ass to Reggie's and everything will be fine.
Miraculously, everyone got there before the buses loaded up. So we excitedly boarded and got on the road and…fucking traffic jam. But here is the real miracle–no one gave a shit, because we had a cooler full of beer and 40 randos to party with, all of whom had no concerns except figuring out what Tool would open with (The Grudge, btw, what a fucking draw!) By the time we got there, we were all a little closer with each other, both in life and Tool fandom. The ride added a level of anticipation and excitement that can be hard to build for a show when you're an adult. The constant nonsense you have to deal with everyday takes up so much brainspace. Having that pocket of time to revel in the freedom of concert night is nothing short of an oasis.
My thoughts on the recent Tool live experience are documented elsewhere, but we were all loose enough upon entry that any setlist concerns were easily outmatched by the virtuosity on display. As for the aforementioned 46 and 2, I almost got in real trouble, as I mistook the final meanderings of Third Eye for another song entirely and told my cousin it was cool to go to the bathroom. Thankfully that familiar bass hit of 46 and 2 started only 20 seconds later, and I was able to grab her before she left to stand in line out of earshot. Had I needed to explain to her that she missed the song, I might have been walking from Rosemont that night. Which would have sucked, cause as you may have gathered, I kind of dig the Reggie's bus.
Also a special mention for the bus accommodating our friend who met us at the venue, as he needed a ride back to the city because his ride got his asshole blown out by Maynard's voice had to bail early.
Judas Priest–October 3, 2014
Oh boy. Here goes. I was on a solo mission for this show, but one of the best things about Reggie's is you make quick friends and the bus is conducive to random hangouts.
This one took an interesting turn.
This bus had a table in the back, and I was back there having some beers with a few randos. All really nice people. One guy was VERY excited for the show. After a few minutes of conversation I had some…concerns…about his ability to successfully exit the bus and gain entry into the venue (Hammond Horseshoe), based on the drunkeness level. At some point he picks up an empty cup, turns his back to the table, and stands up. We are on the fucking highway going 60 mph with no seat belts or anything to hold onto, mind you. This fucking guy holds this position for awhile, so I stopped wondering what the hell was going on and and started smoking a cigarette.
My downed window apparently caught his attention, because the next thing I hear is, "Hey bro, can you throw this out the window?"
I turn around to see him shakily holding the cup, which is now filled. With a yellow liquid. That is splashing everywhere.
"Dude, is that your piss?"
"Ya, can you just throw it out the window?"
"Hey man, I don't think we are tight enough yet for me to be handling your piss. Sorry."
I then stopped interacting with this gentleman. I think I saw him in the show later, but thankfully by then I was locked in by legit intimacy of the Venue and how damn close Halford was standing to me. It was rad.
I'm not sure what became of the cup of piss. I suspect it did not meet a clean end, and some other poor passenger bore the brunt. Fuckin Reggie's bus, man.
Prophets of Rage–September 3, 2016
Something about the good vibes on the bus, the weather, and lucking into the perfectly balanced buzz made this the most fun I've had at a random-ass summer rock show maybe ever. Do B-Real and Chuck D sound like Zach?  Of course not.  But that night no one cared, and I doubt even the real Rage would put on a show this celebratory.
Iron Maiden–June 15, 2017
This had all the hallmarks of a good Reggie's midweek adventure. You sneak out of work early to get wristbands and a solid buzz. One of your crew is late, so you have to beg the staff to keep a wristband in reserve (which they accommodate, because they are fucking great). You pile in and quickly start singing along loudly and poorly with the rest of the bus to a song by the band you are heading to see (The Trooper, amongst others). Your friend decides to walk home from Tinley Park three songs in because Bruce is wearing a hoodie, and he proceeds to get stranded at the non-operational Metra station where he has to borrow a rando's phone to call you to have you order him a $40 Uber home.
Typical Reggie's midweek adventure. 
I will note that the bus was just as, if not more, memorable than the show here, which means it wasn't the best Maiden show. But it was a great fucking time.
Chicago Open Air–May 18, 2019
Dark skies and a bad forecast gave us some doubts, but we trudged to Reggie's anyways. Good thing, because the skies opened up as we boarded the bus, which dropped us off a short walk from the venue. A far cry from the nonsense the year before, where I endured a grueling Pace bus from Midway. Besides being shitty and boring, the bus was late as fuck, causing me to miss the LAST FUCKING DEP PERFORMANCE IN CHICAGO.  Fuckers.  I should have known better.
The show itself was excellent, with SOAD pretending to like each other long enough to inspire full-crowd participation in Chop Suey and Toxicity like it was 2003. It was beautiful.  And almost just as beautiful, we walked straight to the parking lot entrance afterwards and got the fuck out of there on a bus that had an IPOD we all passed around, trading Megadeth and Lamb of God tunes and just generally celebrating the whole experience. 
Thank you, Reggie's.